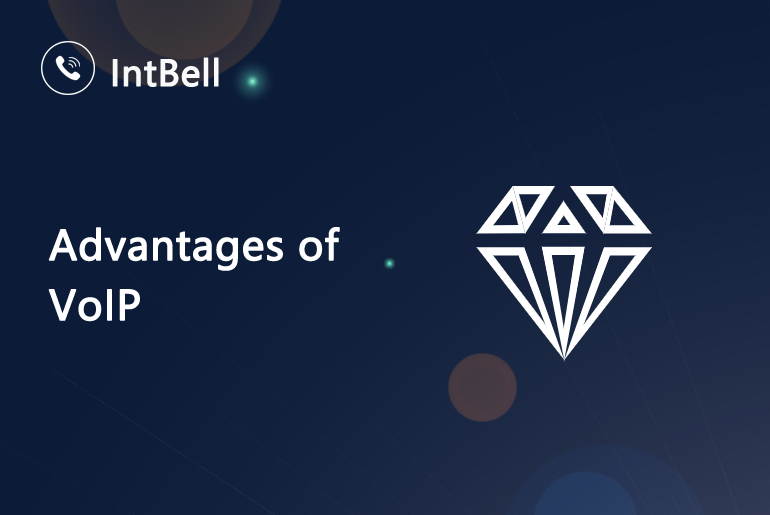 With the changing work mode, many enterprises and employees prefer flexible working hours and remote working. The limitations of business landline phones are becoming more and more obvious. VoIP technology has emerged and gradually become the first choice for business communication.
What is VoIP? VoIP is Voice over Internet Protocol, also known as Internet telephone. It has the flexibility that a landline does not have. It only needs to be connected to the Internet with no limited to geographical location, let alone provide a personal phone from your team members to make reliable calls, which achieves high quality of team communication and business negotiations. While VoIP technology is maturing, there are still some drawbacks, and this article will weigh the pros and cons of VoIP with you to make sure you make a better choice.
Advantages of VoIP telephone systems
Compared with the traditional telephone system, the VoIP telephone system has many advantages, including the following.
1. Reliable communication quality
Traditional phone systems rely heavily on signal, and you've all experienced poor communication quality, delays, and even dropped calls, which can result in poor communication between you and your team members or the customers.
The VoIP phone system solves this problem for you. Unlike the traditional phone system, as long as you have a stable Internet connection (whether using WiFi or your data), the VoIP phone system can provide you with reliable call quality and facilitate your teamwork and business communication.
2.Lower cost
For an enterprise, remote communication between team members and customers is unavoidable. Especially for companies that support telecommuting, this may be the main means of communication. But the cost of traditional phone service is a headache: the cost of a desktop business phone with the subsequent hardware configuration and maintenance is not a small amount. If you're running a small business or a startup, it's even more important to control your operating costs.
VoIP is a low-cost solution. You don't need to buy and maintain additional hardware. You can simply log in in their website or download their applications to communicate with your business related personnel. You don't have to worry about roaming charges when it comes to making international calls, business phone service systems like IntBell offer you affordable rates that can save a lot of money on your phone bills. All you need is a stable Internet connection.
3.Easy to use
The traditional desktop phone system only has a few simple buttons. To achieve the functions, you need to go through a lot of operations, I believe that most people are not familiar with the desktop phone, so you need to remember a lot of steps. Imagine having to do a small brainstorming every time you use it to communicate, it would be a very unpleasant experience.
VoIP phone is different,it has user-friendly pages that are informative,which means you don't have to remember the operations. IntBell has help articles and 24/7 support if you really don't know how to set them up. This means you don't have to spend much time training your team.
4. Easy to expand
VoIP is also popular because of expansibility. When you need to add a member, all you need to do is simple operation and pay a little more per month. IntBell also allows you to assign phone numbers to new members.You can choose numbers in Canada and the United States, England and Australia. When your business is expanding, VoIP is a great choice.
5.Strong Flexibility
Traditional desktop phone is stationary. Once you've chosen an installation location, you don't usually move them, since it's not easy to move hardware and change lines. So it's not very practical to carry your desktop phone with you when you're out of the office. When you're out of the office, you might miss an important call.
VoIP phone solves this problem for you. It doesn't require you to configure any hardware, just use an Internet connection to log in in a browser, or download an application, which means you don't have to worry about customer calls being left on the shelf. Of course, some VoIP providers offer business desktop phone compatibility, such as IntBell, which will give you the service you want if you need it.
6. More features
In addition to reducing operating costs, the enterprises choose the VoIP business phone system as it provides many functions. Such as incoming and outgoing communication, SMS receiving and sending, and employee management. Also, you can use IntBell to promote your business and find your potential customers through mass messaging.
Using VoIP systems can also create a strong local presence. Having a phone number in the same area as your customers often increases your trust in your customers and your potential customers are more likely to learn more about your business.
Defects of VoIP telephone systems
While VoIP phone system has a great amount of advantages, there are some drawbacks that may affect your experience when using it.
1. You must be online
VoIP technology relies on an Internet connection, so everything you can get is based online. When you're offline, your customers and teams can't use the VoIP system to get in touch with you. But don't worry if you don't know that your team members and customers have contacted you. The VoIP system sends calls that don't get picked up in time to voicemail, where you can respond when you are reconnected. Also, VoIP services like IntBell offers call forwarding that you can simply transfer the call to another number.
Plus, look on the bright side: this allows you to avoid interruptions while you're on a vacation in the open with poor reception.
2. No emergency services
One of the advantages of traditional telephone systems is that they have emergency services, which unfortunately VoIP technology does not yet provide. Because of the mobile nature of VoIP phone systems, it is impossible for rescuers to track your location to help you. However, you can still use your smartphone to call for help in an emergency.
VoIP phone systems are powerful enough to support your business, cost and energy savings compared to traditional phone systems, mobility, and the randomness of the work place. Of course, its drawbacks do affect the business, but in the light of its advantages, these less frequent shortcomings are entirely forgivable.
Have you been tempted by the advantages of VoIP phone systems? Click start your free trial of IntBell,take an experience of VoIP.