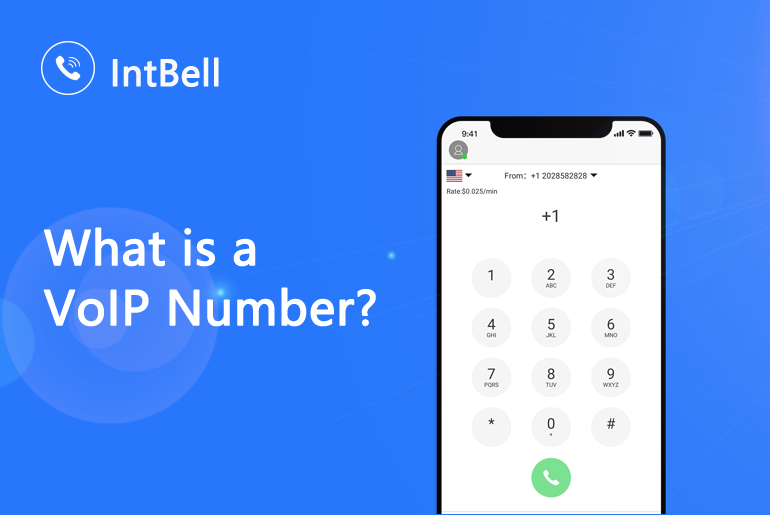 Brick phones from the 1980s are already landing in museums, which means business landlines might as well be dinosaurs, too. With the rise of Voice over Internet Protocol (VoIP) systems, the best business phones may be the ones that don't require a phone at all. In just eight years (from 2010-2018), business VoIP subscribers grew nearly seven times higher — and that's just in the U.S. The near future may not bring hoverboards or flying cars into your life, but a new VoIP number could certainly be in your path.
1. What Is a VoIP Number?
A VoIP number is a legitimate phone number that's tied to an online account. Unlike traditional phone numbers, which are tied to specific devices and phone lines (and, therefore, a physical location), virtual phone numbers can be used anywhere and on any device. As long as you know your login credentials and have an internet connection, you can manage all your phone calls, texts, and voicemails.
Since VoIP numbers aren't location-dependent, it's possible to claim telephone numbers with practically any area code, including international ones. Just like regular phone numbers, U.S. and Canadian numbers provided by VoIP services are issued by the North American Numbering Plan (NANP), so you can rest assured that it's unique to your business.
2. How Do VoIP Numbers Work?
When you use a VoIP phone number for business, you make and receive all your calls over the internet. To get started, all you need to do is subscribe to a cloud VOIP service and log on to their app. You can then get a VoIP number by opting for a new one or by porting an existing number to the service. (Yes, you can even turn a landline number into a VoIP number — and there are plenty of benefits to a VoIP vs. landline!)
VoIP service providers don't just allow you to manage calls and messaging. You can also take advantage of must-have business phone features — like call forwarding, call recording, and auto-attendant — without a bulky desk phone.
Once you have a VoIP number, clients and other stakeholders can reach you just as easily as before. While your business may be managing calls using VoIP technology, people outside your organization can still call you from any device, whether that's a mobile phone, landline, or something else.
3. Should I Get a VoIP Phone Number?
VoIP phone numbers (particularly non-fixed VOIP) are generally more cost-effective and scalable than traditional phone numbers, making them a better option for companies of any size. From small businesses with low budgets to enterprises seeking more efficient ways to operate, all sorts of businesses can benefit from VoIP phone systems.
A VoIP number is a must if you want to take advantage of text messaging (which 85% of smartphone users prefer) without using your personal number. But beyond SMS, you should consider switching to a virtual phone system if you're looking for any of the following perks.
Low Cost
Traditional phone numbers are expensive to obtain. Since they're each tied to a single device, you'd need to spend at least several hundred dollars on a brand-new desk phone or cellphone each time you bring on board a new employee. If you opt for a traditional landline, costs can rise well-above $1,000 between setup, training, and equipment costs.
VoIP phone numbers often come free with each user account, for which you only need to pay a small monthly fee. IntBell, for example, offers plans starting at $10 per user per month. And since users can access IntBell just by downloading a mobile app or desktop app, or by jumping on the web app, you don't necessarily need to purchase any new devices for team members to start managing VoIP calls. And thanks to customer support (and ease of use), you don't have to invest in an IT team to fix tech issues.
Long-distance calls through VoIP phone numbers also tend to have lower rates. You can get unlimited calls to the United States or Canada for free with IntBell!
Mobility
To manage calls to and from a regular phone number, you have to be by your device at all times. If you have a desk phone, you might miss important calls if you head out of the office, since they lack portability. Even if your team has smartphones, which are certainly mobile, they may not be the most convenient option when team members are already using their computer to complete tasks.
VoIP phone numbers allow you to work on whatever device is most convenient for you, even when you're on the go. As long as you have internet service, you're all set.
More Phone Number Options
Phone numbers are typically issued based on your location. But since VoIP providers offer cloud-based phones, you're not required to use the area code that would normally be assigned to you. Instead, you can easily set up local numbers in other regions where you do business. Having a local number can help you build trust among potential clients.
In addition to local numbers in the U.S. and Canada, IntBell also supports toll-free numbers. Plus, since you can share your VoIP numbers on the platform, you can replicate an entire call center, even as a remote team.
Integrations
The internet is limitless, so it's no wonder why opting for a VoIP number can get you enhanced functionality. You can actually integrate your VoIP service with the internet-based applications you use every day to streamline your business processes. For example, IntBell connects with Slack, email, Zapier, and HubSpot CRM to bring more cost-effective automation into your business.
Reliable Call Quality
Stable internet connectivity is all you need to get crystal clear call quality with VoIP providers like IntBell. Whether you're making outgoing or incoming calls, a VoIP number can get you the reliability you need to keep clients happy and internal communication seamless.
Traditional phone line call quality, on the other hand, can be susceptible to weather and wiring issues.
Work-Life Balance
Need another reason to get your business numbers from a VoIP phone company? It'll give you a chance to breathe.
Using a personal phone number for business can get exhausting when you're getting calls every night and day, with no option to silence your phone in case of important calls from friends or family. With a VoIP number, you have greater control over when you get calls.
IntBell empowers you to set up your own business hours, so callers are instantly sent to voicemail after you're done with work. When you're on vacation, you can easily forward calls to your team members, too.
4. How Do I Get a VoIP Number?
Getting a VoIP number is simple with IntBell. To do so, all you need to do is:
Sign up on IntBell.
Enter your email address, tap "Continue," and enter the confirmation code that's emailed to you.
Select if your number is for work or personal use.
Get a VoIP number automatically assigned, or tap "Pick a different number" to select any available U.S., Canadian, or toll-free number yourself.
Verify your account with an existing phone number.
Enter your credit card information. (You won't be charged until day seven, and you can cancel anytime!)
Once this process is complete, your VoIP phone number is all yours!