Are you looking for a modern and efficient way to keep your team working and customers talking? A cloud VoIP phone system is a good choice.
What is a cloud VoIP phone system? Unlike traditonal phone systems that are tied to specific devices and phone lines(therefore physical location), cloud VoIP phone systems are Internet-based phone systems that help to reduce costs, improve call quality, and prevent dropped calls. You can use it anywhere, on any device, as long as you know your login credentials and have an Internet connection, you can manage all your calls, texts and voicemails. RingCentral and Vonage are two of the most popular business phone service systems on the market. Which one is the best for you? Is there a third option?
RingCentral or Vonage: Which is better for you?
RingCentral and Vonage are both popular VoIP systems today. Are they the right ones for you? We'll explore and evaluate them in terms of pricing and features, so you can make your own judgment and help your business grow.
1. Pricing
One of the reason we choose the cloud VoIP services is that traditional phone systems charge a lot for international roaming. For an enterprise, both ream communication and customer negotiation are time-consuming and depend on communication equipment, which can bring large operating costs.Therefore, choose a cloud VoIP phone system that can meet the requirements of the enterprise and consider whether it is affordable.
RingCentral: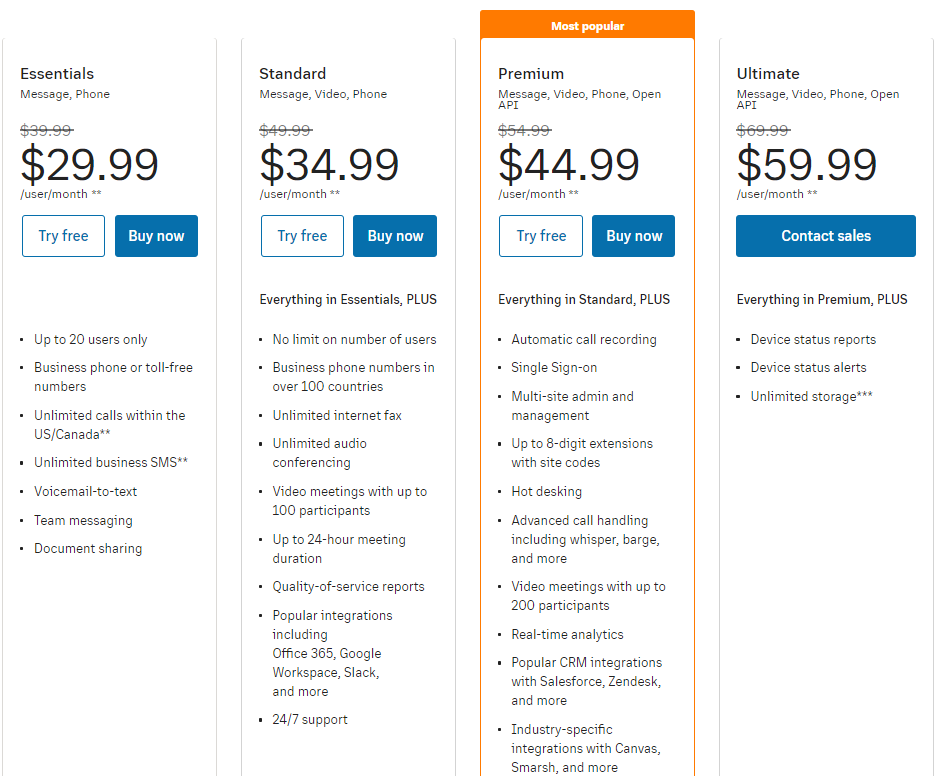 In terms of pricing, RingCentral charges more per user if you have a smaller team. If a team only has one user, RingCentral charge $29.99 per month for Essentials, $34.99 per month for Standard, $44.99 per month for Premium, and $59.99 per month for Ultimate. For a team that has 2 to 10 users, almost every version of RingCentral is $10 less than the price per user: Essentials costs $19.99 per user per month, Standard costs $27.99 per user per month, $7 less than that in a team of one user, and Premium costs $34.99 per user per month. Ultimate costs $49.99 per user per month. When the team has more than 11 users, the Essentials version is no longer available, and the starting price changes to $29.99.
Vonage:
Vonage's prices are on par with RingCental's, and both charge more for small businesses: For one line, Vonage's base version costs $19.99 per line per month; The premium version costs $29.99 per line per month; The advanced version costs $39.99 a month per line. As more lines are added, the line charges are reduced with each version.
2.Function
In addition to reducing operating costs, the VoIP business phone system provides many functions, such as incoming and outgoing communication, SMS receiving and sending, employee management, and group promotion.
In terms of functionality, both RingCentral and Vonage offer many similar features, including unlimited calling in the United States and Canada, as well as business text messaging, group messaging, voicemail to text, call management, and phone system management, They also have features such as the ability to purchase additional numbers and work on iOS and Android.
The basic features of both VoIP systems are similar, but RingCentral has more advanced features. It provides 24/7 support and advanced call handling. Features such as multi-site management ( Of course, only if you upgrade to a more expensive version).
Why is IntBell better for you than RingCentral or Vonage?
For small businesses, IntBell is the best choice for business communication and offers a better user experience at a lower price than RingCentral and Vonage:
1.IntBell offers more affordable prices
There are three IntBell account plans :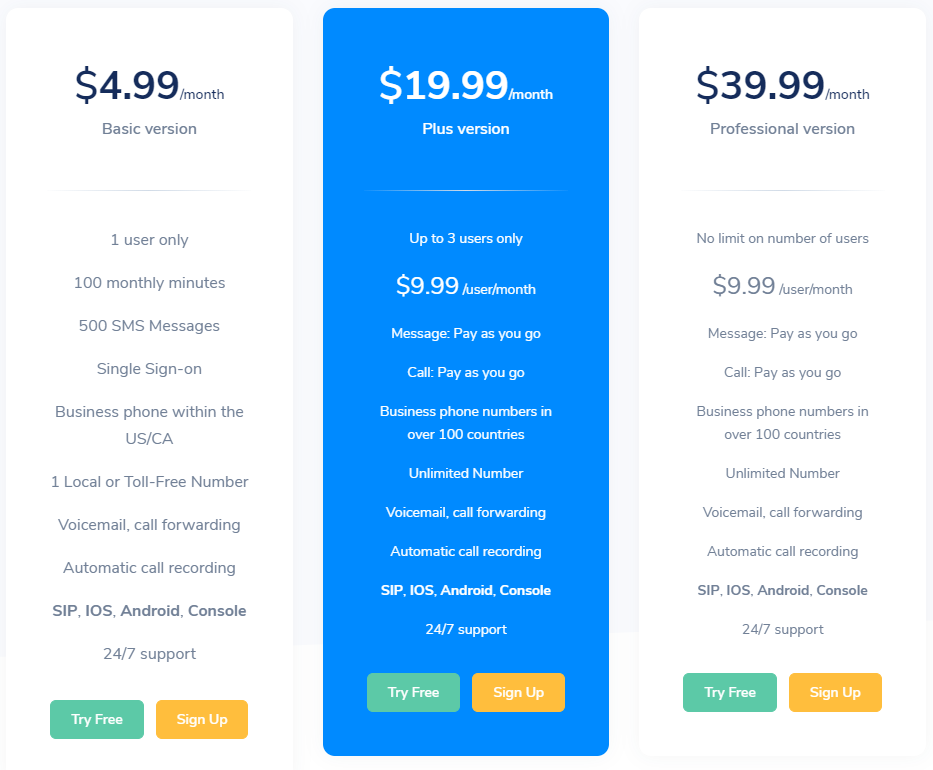 IntBell's plan is more affordable than RingCentral's and Vonage's expensive plans.The basic version costs just $4.99 a month and includes a free U.S. or Canadian phone number. The upgrade costs $19.99 per month, and $9.99 per user, which only allows three users. The pro version, which has an unlimited number of users, costs $39.99 per month, and also costs $9.99 per user per month. If you need to buy more than one number, the charge depends on the number of different countries. What's more, Intbell allows multiple users to use the same number, so you don't have to assign a number to each user to communicate with customers.
2. IntBell offers more practical features
For small businesses, IntBell can meet the general needs to use the function. With IntBell, you can send unlimited SMS, MMS and call to up to 100 countries and territories. It also allows you to buy phone numbers in other countries optionally and set up call recording, voicemail, call forwarding and IVR. In addition, IntBell allows users to set their own work status to balance life and work. Also, you can use IntBell to promote your business and find your potential customers through mass messaging. What's more, you can create departments and assign a number to multiple employees on IntBell without worrying about customer connection problems. Besides, IntBell is so easy to use that you don't even need to download an app to make a call. You just need to log in to your account on the IntBell's web site to make a call.
Want to see the advantages of the IntBell more intuitively? We offer you a horizontal comparion between IntBell and RingCentral and Vonage:
Choose IntBell as your business phone system
RingCenral and Vonage are both excellent telephone service systems, but neither is a perfect choice for a small business. Instead, IntBell is a better choice for your business phone system. Want to learn and enjoy more about IntBell ? Click on the Sign Up to sign up for a free trial!