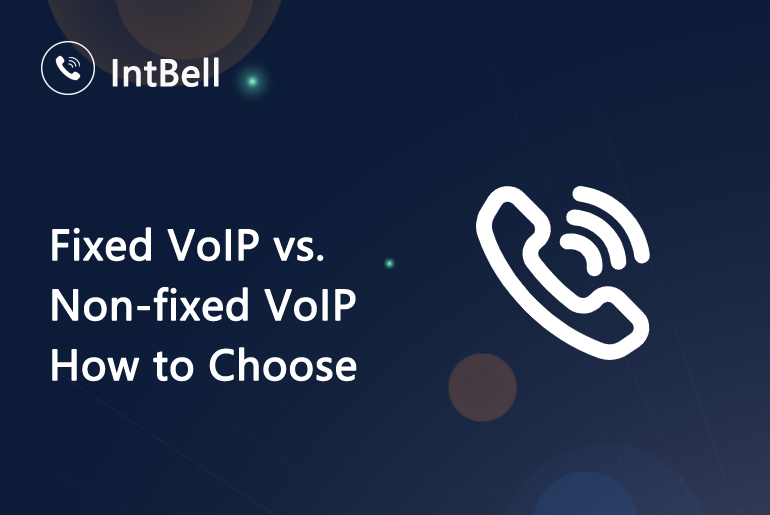 With the development of the Internet era, more and more enterprises give up the fixed-line telephone and professional extension switch, which are heavily dependent on the lines. They choose the telephone service system, which is based on the voice over Internet Protocol (VOIP) , and it can be used by anyone to carry out their business.
VoIP phone service systems offer many advantages that traditional phones lack, such as reliable call quality (based on your Internet status), lower call costs, and greater flexibility.
After deciding to use a VoIP system, have you ever wondered what is fixed VoIP and non-fixed VoIP? And which one to choose?
Whether VoIP is fixed means whether your phone number is fixed. Let's take a look at the differences, benefits and drawbacks of fixed and non-fixed phone numbers, so you can make a decision that better suits your business needs.
The difference between fixed and non-fixed telephone numbers
Calls of fixed and non-fixed telephone numbers both require access to the Internet. But the difference is that fixed numbers require the account holder to provide their physical address, whereas non-fixed numbers are usually associated with a virtual address such as the account holder's email address.
Advantages and disadvantages of fixed VoIP
If you choose a fixed VoIP service, the VoIP system will assign you a local number, which is based on the address you provide.
Advantages of fixed VoIP
With a fixed VoIP phone number, your customers can identify some information about your company through caller ID, which can make your business more credible and more conducive.
A fixed phone number requires you to provide real address, so you can access emergency services when you're in danger as rescuers can track your physical address to rescue.
Disadvantages of fixed VoIP
Fixed VoIP systems are expensive and take a long time to set up.
Since your phone number is only associated with the address you provide, if you expand your business outside your region or country, your local business will not be established due to regional restrictions.
Advantages and disadvantages of non-fixed VoIP
If you choose a non-fixed VoIP service, you will be given a number of virtual phone numbers based on the area code that you chose, and you can choose from them. Of course, you can also buy multiple phone numbers if you have business in different areas.
Advantages of non-fixed VoIP
Non-fixed VoIP is easy to use. You do not need to spend time learning the operating system to use it for business communication.
Your business can be expanded to other regions and countries without any address restrictions.
It is cheaper than fixed VoIP and more suitable for small and medium-sized enterprises.
Disadvantages of non-fixed VoIP
As the non-fixed phone number is based on a virtual address, your physical address cannot be traced, making it difficult to acquire emergency services.
Your customers may not be able to identify your company through caller ID, which could result in your business information or calls being treated as spam or scam calls, it could hurt your business.
Why is it recommended that you choose non-fixed VoIP?
For some enterprises systems prefer fixed VoIP because they operate in a single location and do not require remote work or travel to other regions or countries. Of course, this is a minority. Most enterprises have multiple teams or subsidiaries located in different regions, and they need great flexibility in business. Therefore, it is more appropriate for them to choose a non-fixed VoIP system. There is no need to worry about the impact of VoIP shortcomings on the enterprise's business as they can be addressed.
For non-fixed VoIP that cannot be traced to a physical address to acquire emergency services, you can use your personal phone call number to call for help.
VoIP providers offer solutions to the problem of virtual phone numbers being treated as scam calls by creating API to help identify scam activity. It eliminates concerns of messages and calls will be confused with spam and scam calls. They create a reputation score for a virtual phone number by using data analysis, therefore, users can determine whether a call is trustworthy or not based on the number's reputation score or a prompt from the VoIP system. By this way, you don't have to worry about your business will not be able to carry out by a misjudgment.
IntBell: Optional VoIP service
There are many VoIP providers offering virtual phone numbers. With so many options, which one is the best one for your business?
IntBell provides powerful VoIP services. Here are its several features:
Virtual phone numbers in many countries and areas: build your corporate presence, enhance credibility of your busines and gain the approval from your customers.
Share phone numbers: Assign the same phone number to different team members to increase the convenience of teamwork.
Low cost communications rates: IntBell charges lower rates than most carriers, help you saving your business operating costs.
Communication recording: No longer need to write notes to record business information, communication recording allows you to remember the details of the business.
Voicemail: Worried about missing your customer calls? It doesn't matter. IntBell has a voicemail service for you, and you can always find out through the voicemail messages left by customers.
Set your work status: If you don't want your breaks to be interrupted, you can set boundaries by setting your work status.
Call forwarding: IntBell provides this service for you if you want to transfer a call to another number.
Create departments: To make it easier for your team to manage departments, you can create departments in IntBell.
Group texting: If you find one-on-one texting is time-consuming and boring when promoting your business, IntBell's group messaging feature makes it easier to reach potential customers.
Multi-device supported: IntBell supports SIP, iOS, Android, etc., so you can use it flexibly.
User friendly interface: a user interface with a good sense of experience can improve pleasure and facilitate business communication.
Try a VoIP phone system!
Fixed VoIP and non-fixed VoIP have their own benefits, but they also have their own drawbacks. If your business operations are not all located in a single location or your team needs to work remotely, then the non-fixed VoIP system is a great choice for your business.
Instead of being entangled with the many VoIP phone systems, go in to action and click start your free trial of IntBell to try IntBell ! It will make communication inside and outside your business more convenient and pleasant.